Shopping Cart
Your Cart is Empty
There was an error with PayPal
Click here to try again
Thank you for your business!
You should be receiving an order confirmation from Paypal shortly.
Exit Shopping Cart
DSBE, A California Corporation
Diversity Gathers Strength (TM)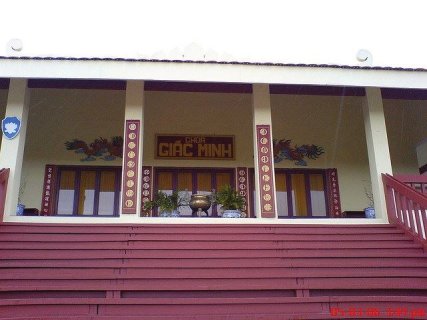 Central Incense Brazier, Chua Giac Minh
After praying here this morning, our CEO took note of the following appeal for volunteers.  Two days before, he had observed and spoken with a gentleman who had scaled the fence of the Pagoda's grounds.  He acted out of concern for the safety of its monks, nuns, and sanctity.  Fortunately, the gentleman and his family simply came from Modesto to purchase tofu from the temple and ask the nuns to pray for his daughter, who is recovering from surgery at Stanford Hospital.
Our CEO prayed for her full recovery, longevity, and happiness -- endorsing the following public announcement:
Buddhist volunteers are needed to visit with Buddhist patients at Stanford Hospital in Palo Alto.  The only requirement is that you have compassion and can speak English (bilingual in an Asian language is a big plus.) There will be a single day (6 hours) training session on Saturday, October 19.  In addition, there will be a few on-line modules to complete, blood test screening, background check, and on-the-job mentoring by three experienced volunteers.
For more information and/or an application form, please contact Don S. Gee at 1 408 942 1706 or [email protected]
Namo Amitabha.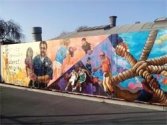 S.T.R.I.V.E.
(Service, Teamwork, Respect, Integrity, Vision, and Excellence)
Mural at East Palo Alto Police Department Headquarters
Image (c) 2014 DSBE dsb-e.com All Rights Reserved.
The East Palo Alto Police Department's Community Beat meeting schedule for June, 2014 is as follows.
Beat One and Beat Four
Date: Thursday, June 19, 2014
Time: 06:30 pm – 08:00 pm
Location: Community Room at City Hall
(2415 University Avenue, EPA, CA 94303)
Beat Two
Date: Thursday, June 5, 2014
Time: 06:30 pm – 08:00 pm
Location: Ecumenical Hunger Program
(2411 Pulgas Avenue, EPA, CA 94303)

Beat Three
Date: Wednesday, June 11, 2014
Time: 06:30 pm – 08:00 pm
Location: Palo Mobile Estates
(1885 E. Bayshore Road, EPA, CA 94303)
The Crime Prevention Newsletter will be available on the City website.  For more details, contact the East Palo Alto Police Department at 1 650 853 3160. 
/