Shopping Cart
Your Cart is Empty
There was an error with PayPal
Click here to try again
Thank you for your business!
You should be receiving an order confirmation from Paypal shortly.
Exit Shopping Cart
DSBE, A California Corporation
Diversity Gathers Strength (TM)
| | |
| --- | --- |
| Posted on March 24, 2013 at 9:19 AM | |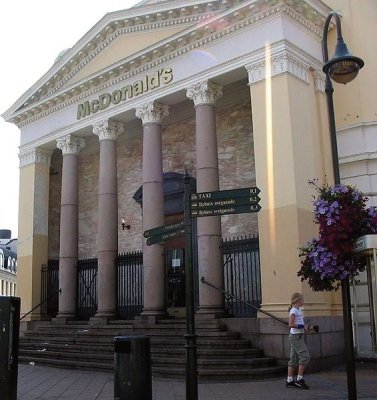 Wikimedia Commons, CC Tomasz Sienicki
The VP and General Manager of our Sauber Janitorial Services division could not get to work on time this morning because a Ravenswood Shopping Center McDonald's employee did not get to work on time and the shift manager decided not to open without that person.
The McDonald's, at East Palo Alto's Ravenswood Shopping Center, did not open until 5:25 a.m. when it was supposed to have been opened at 5:00 a.m., making David, Sauber's VP & General Manager, late to work on its WiFi system.
As DSBE's VP & General Manager of its Market Intelligence division too, he knows very well this McDonald's store is obliged by the terms of its franchise contract with McDonald's Corporation to open its doors on time. 
So he wrote them:
The store was not opened until about 5:25 a.m. when it ought to have been opened up at 5:00.
There were two customers waiting for the lobby to open at 5:00.  Another joined them to wait until the doors were finally opened at 5:25.
One of the customers who had been waiting for the lobby to open at 5:00 asked someone driving through the drive-through window to buy his coffee for him in order that he could be served, as he could not get into the restaurant and would not be served at the drive through window as he was riding a bicycle.
The customer who arrived later stated this store has been repeatedly late to open up.  I cannot vouch for that as I do not live by this store, and do not patronize it as much.
Please pass this along to Larry Tripplett, owner, who can relay this to his daughter who oversees the East Palo Alto stores so she may discuss appropriate corrections with the manager of this restaurant.
Previous correspondence by David to McDonald's Corporation has resulted in a leaky roof being repaired after four years of neglect, a stop to the same bad habit of opening after 5:00 a.m because of an habitually late employee and an improvement of the janitorial standards at the McDonald's at University and Bay in East Palo Alto after an ant trail due to uncleaned ice cream had been reported.  It is hoped this will also prove effective.
v. 1.0
(c) 2013 DSBE dsb-e.com All Rights Reserved.
Categories: Market Intelligence
/